LL and Cool J Get Together
What happens when LL and Cool J get together?! Well, read on to find out! This week's guest blogger is a soul sister of mine and I couldn't be more honored to have her share her words here with you in this week's blog post. Jenna Zaffino, Pilates Teacher, Business Coach, Podcast host, and way more than words can describe has shared three common limiting beliefs and help for each of them.  As you read this week's blog ask yourself if any of this sounds familiar to you. And, if it does let's talk! Limiting beliefs are walls keeping you from what you want. And, as you'll read Jenna and I know that there is so much magic on the other side of every wall.  Jenna, take it away!
As a career coach, I've been fortunate to work with Pilates Pros around the world. My favorite part of coaching is learning about the various cultures in different studios. This provides a great reminder that we are all connected through this beautiful method.
Most similarities amongst global Pilates teachers fall into the positive realm; health-conscious, movement enthusiasts, love the Pilates Method forever and ever, etc. On the opposite end, however, I have seen some major universal themes that get in the way of the progress of Pilates Professionals and create negative stories that hold us back from the true potential of our work.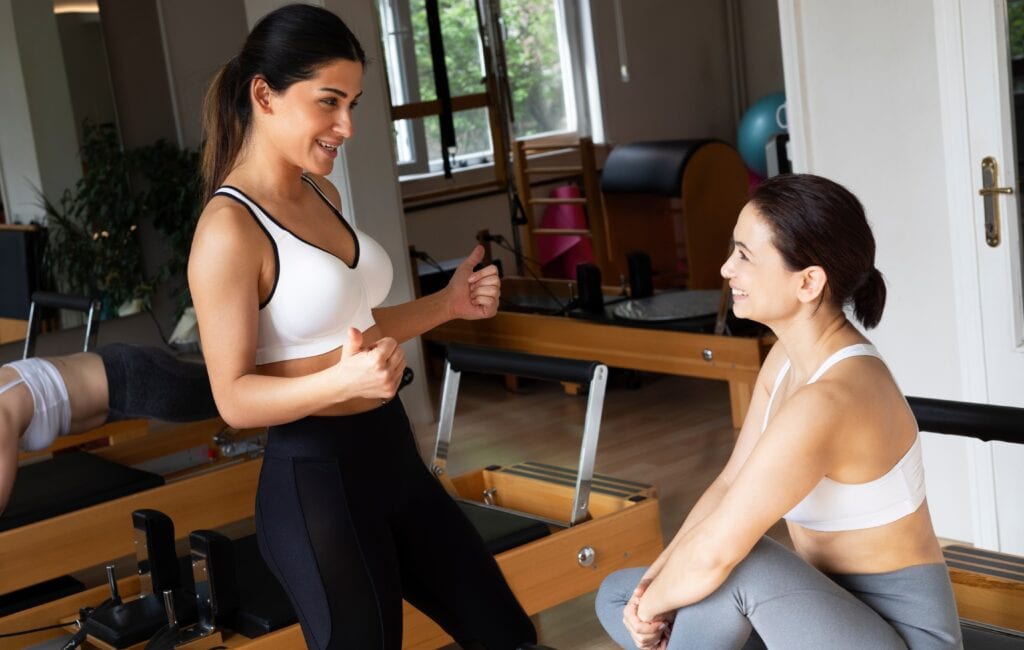 Top 3 Limiting Beliefs of Pilates Pros
The following are what I've seen to be the top 3 limiting beliefs of Pilates Pros, along with some perspective that may help you see your situation in a new light.
Suffering is part of the job. Many teachers believe that they must suffer in order to provide help for others. For some, it's getting paid less than they are worth (or working for free,) for others, it's working far too many hours in the name of providing help.  The truth is, suffering, rather than thriving will, in fact negatively affect your work. The suffering mindset breeds resentment, irritability, hopelessness and ultimately is a gateway to burnout.  What starts out as a noble sacrifice can quickly become a burden – especially when it negatively affects your finances. To me, it's about the ripple effect.  If you are paid what you are worth, you may be able to lessen your hourly workload, which preserves your energy for the clients you still see.  When those clients have a quality experience with you, they will be more likely to refer you to the people and opportunities who will appreciate the wholeness of your work and pay you for it.  Start thinking about the areas where you might be overextended.  What is one small change you can make to move towards an energy of thriving rather than surviving?
I should do it all myself to save money. I used to live and breathe this tenant to a fault.  Then, one day, a successful entrepreneur asked me what I was best at.  "Teaching Pilates!" I exclaimed.  He said, then do more of that and hire someone to do the things that drain you.  The idea of spending money on help can be daunting, but each time I have invested in my business by taking something off of my plate that allowed me to do more of my great work, I have reaped the benefits 10-fold.  Today, I run a small business of just me as the teacher/coach/podcaster AND I have a full-time Operations Director.  She provides the platform for me to shine.  On paper, I may save some $$ without an employee, however, without the help of a teammate, I would most certainly be in burnout mode every day.  What is one area that you can outsource? Laundry, reception internships, and housekeeping are 3 great areas from which to start taking some work off of your place.
I have to stick with the known model of running a Pilates studio. I feel like this one is a doozy, however, the more I've worked with clients to individualize their business practices, policies, and procedures to the needs of their business, the more I have seen their businesses thrive.  If you've owned a studio, or even run a private practice, you know that there is a certain way that things are done as "norms" in the industry.  The thing is, there are no rules as to how you run your business other than the policies and procedures that must serve both your clients and your bottom line.  Have slow months in the summer? Why not run your annual budget on a 10-month projection.  Need to ensure that classes are attended? Why not offer pre-registration for the class series?  I encourage my clients to get creative with their models, not only from the standpoint of differentiating themselves from other competitors but to make their business work for them.  What is one way you would like your business to serve you better?
For more Jenna Gems check her out on Facebook, Instagram, her website, and her podcast.