Importance of Self-Practice
Does this sound familiar to you? You fell in love with Pilates and took the leap to become a Pilates instructor. As an apprentice, you did lots of self-practice and extra sessions every week. Your fellow apprentices practiced teaching on your every day, and you were living, eating, and breathing Pilates! Then you graduate from your program and begin teaching. You start canceling your session with your instructor to fit a client in. Then it happens again. You cancel your standing and tell yourself you will schedule after you get all your clients scheduled.
You miss a couple of weeks but you promise yourself that you'll self-practice. The days get longer, and you feel too tired to push yourself. One day you find yourself jealous of the Pilates session your client is getting from you. Or, worse, you don't feel inspired anymore. You think you need to learn more exercises or give them exercises they might not be ready for yet because you are afraid they are bored. My friend and Pilates instructor Carrie Samper once said: "If you are bored, your clients are bored." I agree with her.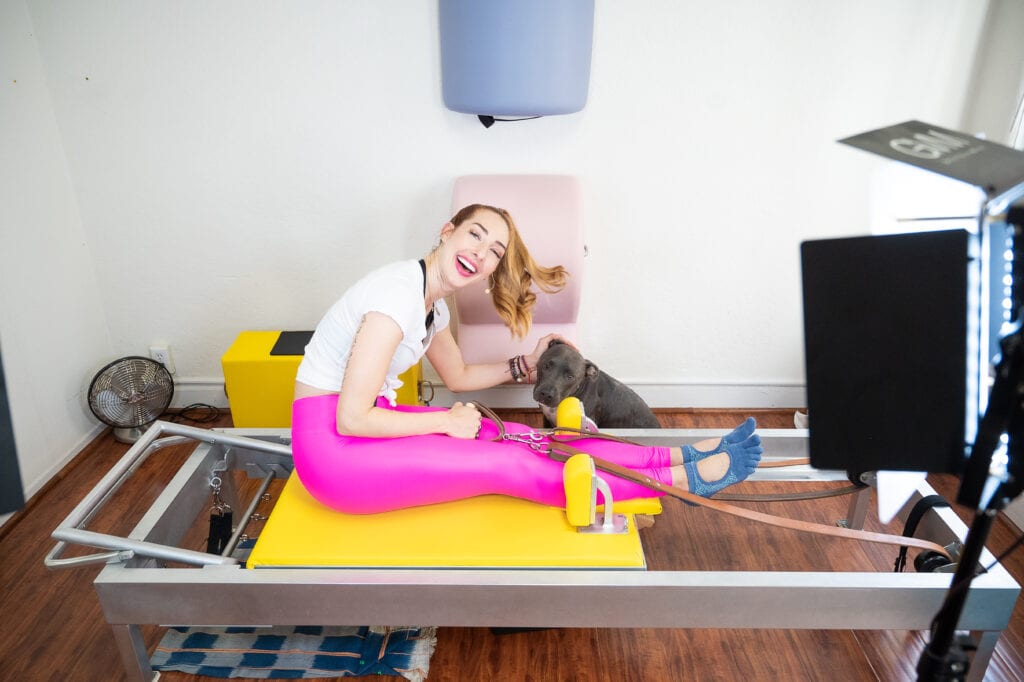 Your Pilates Practice Inspires YOU
I recently graduated "The Work" at Vintage Pilates with Jay Grimes. Myself and 11 instructors from all over the world were accepted into their year-long program diving into the method the way Joseph Pilates taught it. To prepare for the training, I committed myself to do Pilates four times a week. During one section I did Pilates every single day for almost 45 days! This past year I have never loved teaching so much. My body craves Pilates, and my practice helps me guide my clients better. I find myself picking exercises for them that I may not have thought of originally because my practice is strong. But you don't have to take just my word for it! I asked several of my friends from all over the world to share why their Pilates practice is so important.
Miguel Silva from Uno Pilates in Seville, Spain, practices Pilates every day as part of his lifestyle. His program required apprentices to get hours and hours of self-practice and classes in before they could even practice teaching any client. If you are thinking about becoming a Pilates instructor "be sure your program requires you to take Pilates sessions and classes."
Jihye from PopPilates Studio in Seoul, South Korea, practices Pilates five days a week. Her Pilates practice "I can teach them based on what I feel. I can see something new in my client. It helps me instruct from a different perspective, a better perspective." Jihye recommends all teachers move, move, and move!
Joel Crosby from Vitality Method in Atlanta, Georgia practices three times a week. He gets at least one full mat, and reformer workout in and then uses the Cadillac and other equipment to support his practice. When asked how his Pilates practice affects his teaching Joel said: "My personal practice, for one, keeps me inspired to teach the work because I feel how it continuously affects and benefits my body. My practice helps me have good intuition when working with clients. It keeps fresh in my mind how the exercises probably feel in their body. Also, I know when I give them a needed modification how that can change the feel of an exercise, because of my consistent exploration of the Pilates exercises and personal practice." Joel recommends Pilates instructors maintain their Pilates sessions and use continuing education to recharge their batteries.
Els Lobbedey from Belgium believes in the three P's: Practice, patience, and persistence. She does Pilates daily to help her deepen her understanding of the work.
Emanuela from Pilates Armonia in Rome, Italy, practices three-five times a week. She uses Pilates to help her hear her body better. Pilates allows her to destress and find her center. Because she can feel Pilates calm her, she is better able to help her clients use Pilates to relax and find their center. She recommends instructors observe other teachers' bodies helps you grow every day.
Noam of Vancouver, Canada, practices Pilates at least five to six days a week. I asked Noam what a personal Pilates practice teaches and he said "We are all students even the greatest teachers. I truly believe, in order to, keep refining and deepening Joseph's work we must live it in our own bodies! Understanding the concepts of Pilates is easy but embodying these concepts is what Pilates is all about. It takes time. It's how the work lives and teaches us all." If you cannot get to a session Noam Gagnon recommends Pilatesology.com
I recently filmed with PilatesAnytime.com a reformer class and a mat class. You can check out the reformer class here and use my name to enjoy 30 days of free access to over 2400 Pilates classes.
So, no excuses! Grab your schedule and put YOUR Pilates practice in first. If it is on your schedule, you are more likely to do it!
Each person above and the others in my group practice what they preach. They may live half a world away from their teachers, but they made sure to Skype in sessions each week. With technology today there is no excuse for not getting a lesson or class in each week or even daily to rock your Pilates practice, connect you to your body, and keep you inspired. I'll leave you with one final thought from Noam "We only become good at what we do, practice is the key. It's simple math!"
xx~LL